Country Showcase brought soulful performances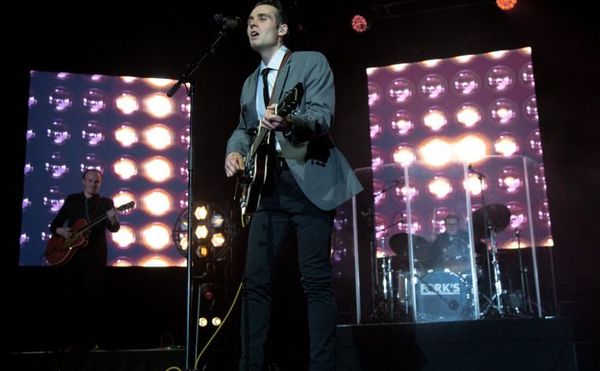 Posted by Belmont Vision at Belmont Vision
Pink cowboy hats and multi-colored glow sticks filled the Curb Event Center as four artists took the stage for the Country Showcase on Saturday night.
The showcase consisted of steel guitar solos, swing dancing and a twang that turned the arena into a fishbowl view of new and traditional country music. 
Cole Ritter and the Night Owls took home the win — but the night brought performances every artist should be proud of. 
Bella Hudson kicked off the night with a heartfelt tune that accentuated her vocal abilities and slight southern twang. Hudson's songs were full of personal experiences delicately placed throughout her lyrics. 
She concluded her act with a blazing version of "Mama's Broken Heart" by Miranda Lambert that had audiences singing along to this sassy tune when she hyped up the crowd by encouraging them to finish the last chorus with her. 
Up next was Cole Ritter and the Night Owls. The band's smooth modern country sound had audience members swing dancing on the main floor by the end of their act. Lead singer Cole Ritter was front and center, charming the crowd with his soulful demeanor and old-school look. 
The group incorporated a steel guitar and a fiddle into their music to not only stay true to traditional country, but to give them unique flair alongside their contemporary old school vibe. 
For their last song, a few audience members linked arms with one another, threw their heads back laughing and danced the last tune away, creating an inviting atmosphere within the arena. 
Groups rushed the stage — some in pink cowboy hats and personalized t-shirts — holding glow sticks while chanting, "Maggie, Maggie, Maggie," while waiting for Maggie Renfroe to hit the stage.
Renfroe did so with a commanding force. With just a microphone in her hand for the first song, she moved around the stage, engaging with audience members while belting out blissful harmonies that filled the arena.
Renfroe took the time to explain the meaning behind each of the songs she performed that night. The song that showcased the most personality was her broken-down version of "Bennie And The Jets" by Elton John. Renfroe belted out the tune with a soulful, modern twist. 
To conclude the night, Jordan Dozzi gave a captivating final performance. With his smooth voice and more laid-back set, he easily won the audience's attention.
Dozzi not only wooed the crowd with his Australian accent, but had it enamored with the story behind his cover and rendition of "Landslide" by Fleetwood Mac — the first song he and his sisters sang together.
The Country Showcase displayed a wide variety of talent through four skilled, polished artists that made the Curb Event Center the place to be Saturday night.